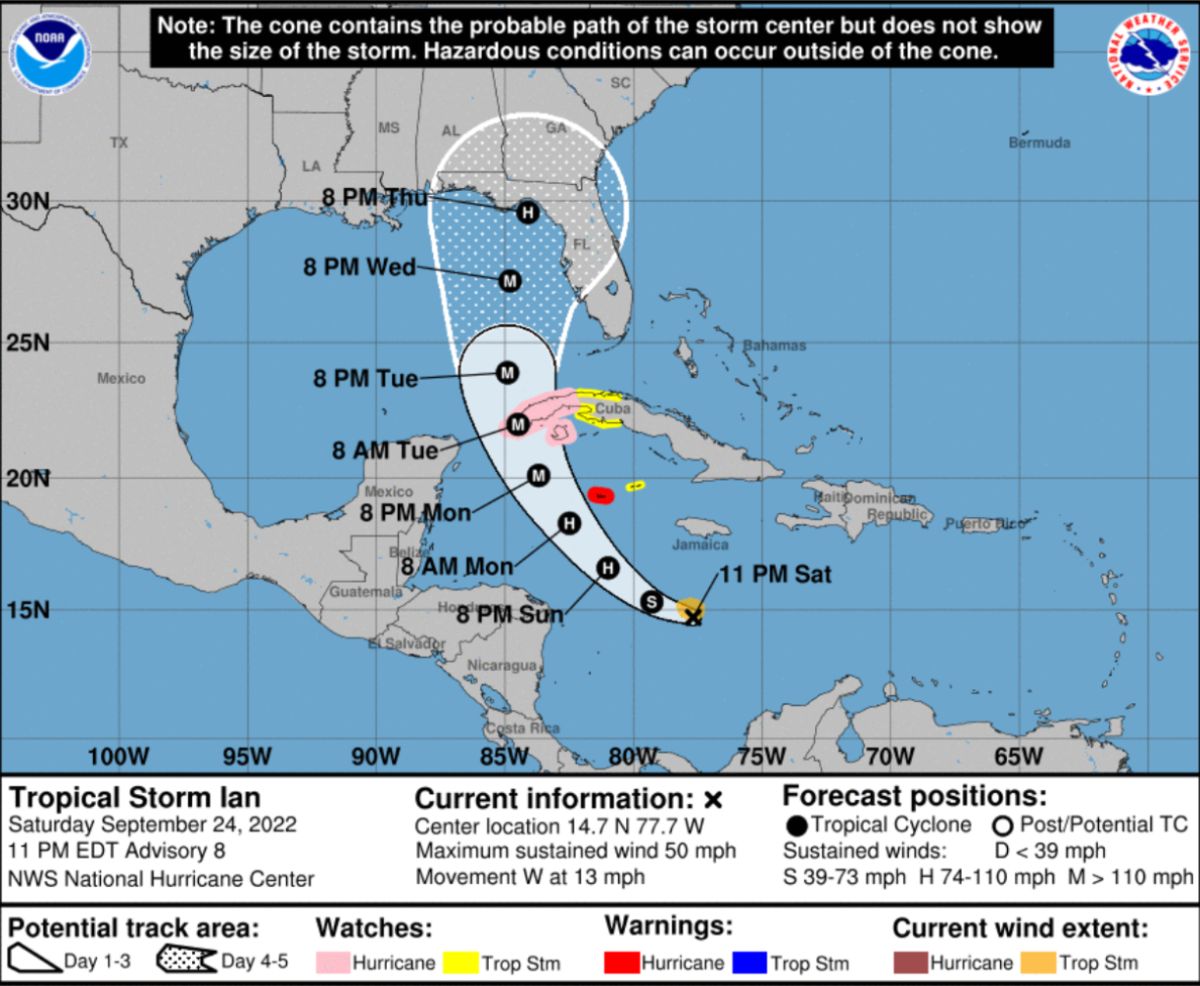 Photo: NOAA/NHC / Courtesy
The tropical storm ianthe ninth named storm of the 2022 Atlantic hurricane season, forecast to reach Category 4 hurricane strength before reaching Florida next week. If it does, it will be the first major hurricane to hit the state since 2018.
Ian was located about 395 miles southeast of Grand Cayman and 685 miles from the western tip of Cuba at 11 p.m. EDT Saturday and is moving west at 13 mph, according to the National Hurricane Center (NHC). "Ian is forecast to rapidly intensify and become a hurricane on Sunday," said the center in the part. Maximum sustained winds have increased to 50 mph.
The forecast shows Ian "as a major hurricane over the eastern Gulf as it approaches the west coast of Florida" after briefly passing over Cuba at or near major hurricane strength, the center said.
All of Florida and part of the state's western coast could be at risk, based on the most recent forecast cone from the hurricane center, which highlights that Although South Florida is outside the new path, the impact of the hurricane will be felt also to the east and south of its trajectory.
Ian is expected to rapidly intensify into a Category 3 hurricane before reaching the western tip of Cuba on Tuesday morning. Conditions are extremely favorable for it to strengthen and the National Hurricane Center forecast now calls Ian a Category 4 hurricane over the Gulf of Mexico.
"Since Ian is not expected to remain long over Cuba, little weakening is expected from that land interaction," the hurricane center warned.
Biden and DeSantis emergency declarations for Florida
President Joe Biden declared an emergency in Florida on Saturdayas reported by the White House, and ordered federal assistance to supplement state, tribal and local response efforts, due to emergency conditions resulting from Tropical Storm Ian.
Biden also postponed his trip to Florida next Tuesday. Biden was expected to speak on health care costs and Medicare in Fort Lauderdale and then head to Orlando to speak at a Democratic National Committee event. It is not known when or if Biden will reschedule the visit.
Florida Governor Ron DeSantis had also declared a state of emergency for the entire state earlier on Saturday. The governor asked residents and their families to start preparing emergency supplies and stockpiling food, water and medicine.
.